This Mermaid Birthday Party is another one of my own setups. My daughter wanted an Ariel party but I didn't want an over the top Disney party so we met here in the middle.
Everything was DIY. From the mermaid skirts and seashell hairpiece  to the treasure chest (old shipping trunk) and even the jelly fish hanging from the ceiling were made …
This Beach party idea is a little extra special as it's was for my little boy
We created a Beach/Pool party for his 1st birthday party and it was lots of fun.
I laminated printed surfboards for cupcake toppers and used shoe key rings and shark fins also.
Guests were able to keep the shoe key ring if they wanted …
I know what your thinking – Tacky!  Well yes they are but they are also practical.  I will openly admit I have one, it even lights up for night time parties.  My kids love it, I often fill it with water for parties.  Even water tastes better when it comes out of a fountain.
Here are some fun recipes I …
Planning on having a popcorn bar at your next party or movie night? Did you know just how many types of popcorn there is? 230 Actually!
Kernel Encore has popcorn covered. You can buy a 15 gallons of caramel or 120 serves (with bags supplied) for $167 dollars. That's Popping Crazy!
Need something a little smaller then try a 1 …
Balloons don't have to be tacky, there is so much creativity to be found online.
Larger round balloons are taking the old-fashioned party decoration to a new creative height (pun intended).
Check out the top 40 DIY Balloon Party Decoration Ideas on our Pinterest inspiration board.…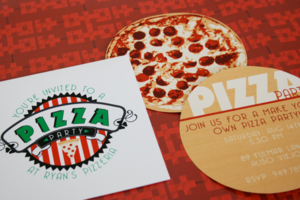 I came across this DIY printable Pizza Party Invitation  and thought it was worthy of sharing. The file is $15.00 from Wantsandwishesdesign and you can print off as many as you need. Not only is this suitable for a Pizza party but also Sleepover and Movie Nights.
Looking for something a little more generic? Then check out these pre-printed invites…
This is one of those must know life lessons that always seem overlooked.
If you  have ever waited to see what everyone else was doing before picking up your fork? Then make sure you memorize this photo. In fact save it to your smart phone for those awkward moments.…
Have you ever been to a restaurant that allows you to fill a bowl with salad? Well fritesandfries.com have mastered the art of what can only be called TAOFF Technique – "Taking Advantage Of Free Food".
I know this technically has nothing to do with parties but I could not let this effort to create this food tower go unnoticed. …
1. Soccer party Styling by PaisleyPetalEvents
2. Giant Soccer ball from Vat19.com 
3. Giggleberry shares a fun Referee Bottle Cozy which retail around $1.69 each from the ezpartyzone (very affordable)
4. kimskandykreations Soccer Dessert Table.
5. CatchMyParty Soccer Styling.
6. Soccer Invite by ZAZAZOO
7. Soccer Backdrop for Dessert table by Giggleberry 
8.  Soccer Party Pinterest board.
9. How …
When it comes to party food and having that WOW factor it really comes down to one thing. PRESENTATION.
Sure we can slap some meats on a plate and throw some crusty bread down but have you ever taken the time to turn something into art?
Rita made this wonderful Antipasto centerpiece using a polystyrene cone and toothpicks. You simple pin the pieces …
keep looking »